CBD is a product that is gaining in popularity in recent years, with many more people deciding to give it a go. However, if you are completely new to the world of CBD, you will no doubt be wondering what CBD is and what forms it takes. Well, CBD is a product that comes in many shapes and forms, such as CBD Tea flowers, CBD vapes, CBD tinctures, CBD Capsules and CBD edibles such as CBD gummies and CBD chocolate and in topical form for the body.
There are different forms of CBD out there too, from full spectrum to broad spectrum, then isolate and distillate. It's all very confusing! The type you use will depend on the way you wish to utilise the CBD and the strength you wish it to be. This is all information that can be daunting to a newcomer to the CBD world, which is why we at The CBD Flower Shop are here to help.
We have the knowledge and experience to assist you in all your CBD requirements, offering you a choice of CBD.
So, if you want to begin your journey with CBD, but you are completely new to the world of CBD, you are in luck. This is exactly what we offer here at The CBD Flower Shop. Whatever your requirements might be, we will have a product to suit your needs.
What Is CBD?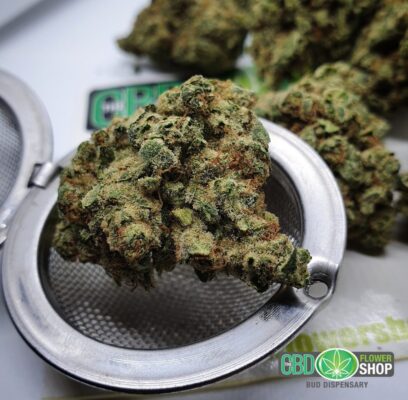 While you might have heard the term CBD before, with it gaining popularity in recent years, you might not be aware of what it means or what CBD products are. CBD, or Cannabidiol, is a chemical that is found in the hemp plant. It is one of the many cannabinoids, or chemicals, found in hemp.
Hemp flowers/CBD flowers generally contain a small trace of THC content, which stands for tetrahydrocannabinol. This is the substance commonly associated with psychoactive effects. With trace THC level, hemp/CBD flowers won't provide a high. However, it is worth noting that CBD products, including tea, edibles, and tinctures, can still cause a user to experience relaxation in the body as opposed to the mind.
Most CBD products, including those we sell at The CBD Flower Shop, will contain equal to or less than 0.2% THC content with very high levels of CBD content. Some of our product range such as the Pure Range, gummies and vape range have zero THC.
CBD is a legal substance in the UK. It does not appear on any schedules to the Misuse of Drugs Act 1971 or the Misuse of Drugs regulations 2001.
Forms of CBD
If you are new to the wide world of CBD, you might think that there couldn't possibly be that many different forms of CBD available. Well, we think you will be surprised by the forms of CBD available, not just in different strains but also products.
There are many different CBD products you can use, all of which utilise various types of CBD. With so many different CBD products available, it can be difficult to know where to begin, especially if you are new to CBD.
This is where we can assist you, as we can talk you through the different CBD types available:
Full Spectrum CBD
If you came into this article wondering "what is full spectrum CBD?" you are in luck, as we are about to explain this here. Full spectrum CBD means that the product contains CBD plus other cannabinoids.
A full spectrum CBD product will contain multiple cannabinoids which means that you have the benefit of not just CBD but other cannabinoids as well; this is known as the entourage effect. This is where CBD, when consumed with other compounds found in the plant, will work better and yield better results. This is due to CBD possibly being able to work in harmony with these other compounds, amplifying the beneficial effects. This supports the theory that broad-spectrum CBD might be more beneficial than CBD isolate.
Full spectrum CBD is extracted from the plant.
Broad Spectrum CBD
Broad Spectrum refers to the CBD form which has no THC and is also extracted from the plant.
CBD Isolate
This is an extraction process that results in only pure CBD being extracted from the plant. There are no other cannabinoids, including THC in it. Products are then made using CBD Isolate.
An important thing to know about the process used to produce CBD isolate is that it removes all the ingredients responsible for hemp's flavour and fragrance. This means that CBD isolate will have no taste or smell.
CBD isolate can come in two forms. In its original form, CBD isolate is a crystalline solid and looks like milky crystals straight out of a winter fairy tale. While very pretty, CBD isolate in this form is not easy to use. Fortunately, it can easily be turned into a white powder through a simple process of grading the crystals.
CBD Distillate
CBD Distillate is a reduced version of the entire hemp plant with 50%-70% CBD content. This leaves room for the remaining vitamins, terpenes, fatty acids and other cannabinoids meaning it has the same natural balance of chemicals as the Hemp plant itself. Products are then made from the CBD Distillate.
CBD distillate is a thick liquid containing a plethora of components found in the plant. The consistency resembles that of honey or maple syrup. It can be brown, yellow or orange, depending on various factors, such as the temperature of the room it's in.
The distillate is what you will have left from the hemp plant after the extraction process is done, and all the harmful ingredients are removed. A CBD distillate will not contain any lipids, impurities, fertilisers, pesticides, or solvent residues. It will, however, contain CBD and all the other cannabinoids which can be found in hemp.
CBD distillate is also used to make CBD isolate. After putting CBD distillate through further processing, individual compounds (such as CBD) can be isolated, creating CBD isolate – Cannabidiol in its purest form.
Buy from Us! – We Provide High Quality CBD Products
So, after reading all of the above, you might now be ready to try some CBD products for yourself. If you are, but you are unsure where to purchase your full spectrum CBD products from, we at The CBD Flower Shop can help you.  Whatever your requirements might be, we will have a product to suit your needs.
We only sell products of the highest quality, ensuring every CBD product on our site is second to none.
Plus, you will find that every CBD product we sell at The CBD Flower Shop contains equal to or less than 0.2% THC content. This ensures that the THC content is negligible and therefore zero psychoactive effects for the user.
So, if you wish to invest in the best CBD products, you have come to the right place – The CBD Flower Shop. Thousands of our customers agree that we offer the best products in the market, check out our reviews on the website.
Contact Us
Now you have had a chance to read all about CBD and the various forms of CBD available for you, you might be ready to start your own CBD journey. Hopefully, the above information has helped you regarding the forms of CBD available and given you a better idea of which type of product will best suit your needs. however, if you find that you still require assistance, don't hesitate to reach out to The CBD Flower Shop, as we are here to help.
Plus, placing an order on our site couldn't be easier. Simply find the CBD product you require, add it to your basket, and check out securely with our secure payment system. Your order will be delivered quickly right to your doorstep.
So, if you would like to find out more and speak to a team member directly, send us an email at [email protected]. We will respond shortly via your preferred method of contact.